The John Lewis advert is out, Michael Buble has sufficiently defrosted, the smell of freshly baked mince pies is in the air and the Shorthose Christmas Challenge has commenced – all sure signs that Christmas is officially here.
For the past couple of years, it has been every man/woman for themselves as we've gone head to head to be crowned winner of the SRL Christmas challenge but like much of 2017 (ahem, Trump, Brexit, the great loss of Prince Harry to his engagement) change is upon us.
This year in true Christmas spirit we will be teaming up with fellow colleagues to create an hour-long Shorthose Spectacular.
A Shorthose Spectacular? That's right, the challenge we have all been set for 2017 is to host 'a little get together' every week in the lead up to Christmas and as always there is a competitive element as all the events are being judged by Pete, with the following criteria being marked out of ten:
Quality
Creativity
Christmasiness
So, with a pinch of event management, a sprinkle of team work and more than a dusting of festive fun week one kicked off with the naughty elves from the PR and Content team getting the office into all sorts of mischief.
PRontent took the challenge very seriously, there were meetings to be had, films to be directed and games to be organised.
Mark, Head of PR, said "Everybody knows that festive fun and games are at their best when silly and frivolous. The team's dedication to achieving silly was absolute, resulting in some genuinely first-class frivolity. If the objective here was pointless nonsense then this was another award winning performance from the PR team."
Hosted in the boardroom, the elves gave everyone an elf name and encouraged them to don a bobble hat for an hour of festive games and homemade fayre (points lost for the lack of drink refreshments)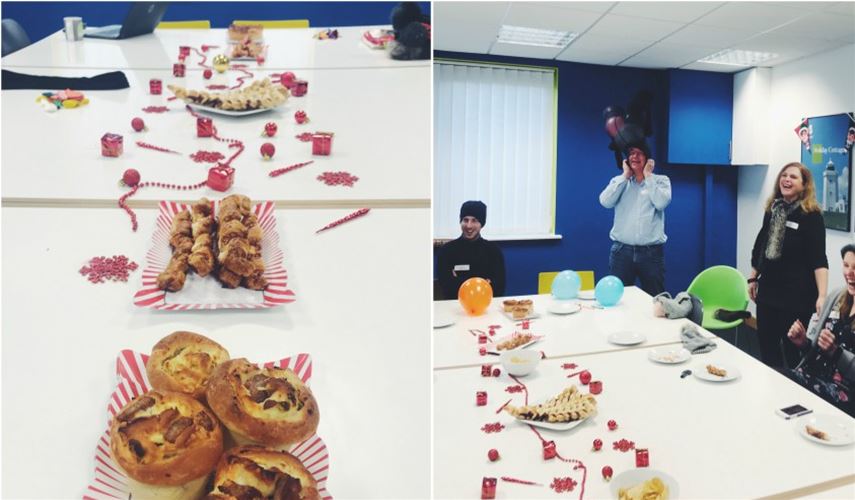 Homemade treats and Sparkie Angel-Pants aka Steve demonstrating his balloon antlers
Called The Russell Christmas Rumble, games included:
How many balloons can you fit into your reindeer antlers in two minutes?
How many Christmas baubles can you throw blindfolded into your Santa sack?
How long does it take to unwrap your present whilst wearing festive glasses and a pair of oven gloves?
And finally, the reindeer dash – where had the elves hidden the Christmas coffee voucher?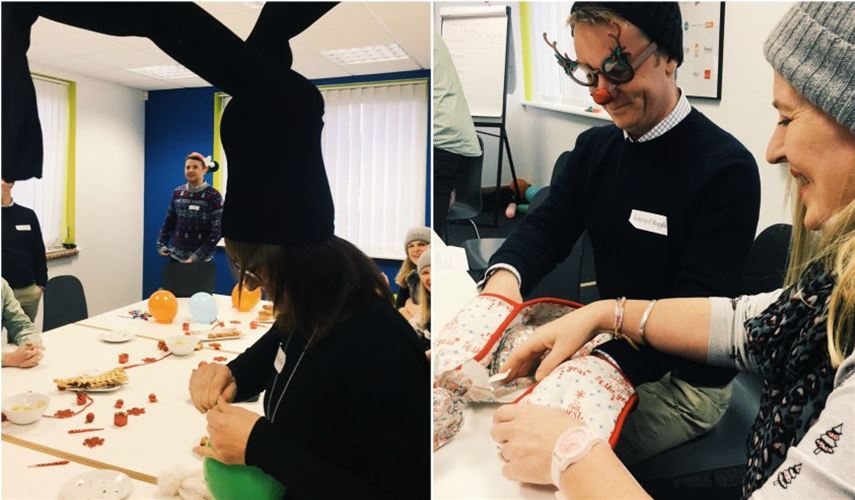 Perky McJingles, Buttons O'Giggles and Tootsie McGlitter having some festive fun
And here are the elves in action…

Prontent Christmas Rumble from Shorthose Russell on Vimeo.
Studio and Marketing are hosting week two, we'll keep you posted!