If you missed part one of the Shorthose Russell Christmas Challenge you may want to have a catch up read before you check out what week two had in store for the SRL Team.
Week two was the turn of Studio and Marketing in a combined effort to WOW the judges with their very own Christmas event. Remember, the Shorthose Spectacular was being judged on the following criteria:
Quality
Creativity
Christmasiness
Things had been very secretive in the meeting room (the chosen venue for this particular get together) paper screens were shielding the windows and whispers were heard as the set up took place, at 11am sharp, we all found out why.
To the tune of 'Galvanize' we were all ushered and welcomed into an authentic Nativity scene complete with three wise men, a donkey and wasn't it a stroke of luck that our very own mummy-to-be, Jessica, provided a genuine Mary (here in spirit, in cardboard cut-out form).
You can't deny Studio and Marketing points for creativity as a huge backdrop had been designed and assembled, making you feel as though you really were in Bethlehem and had followed the star leading to the stable.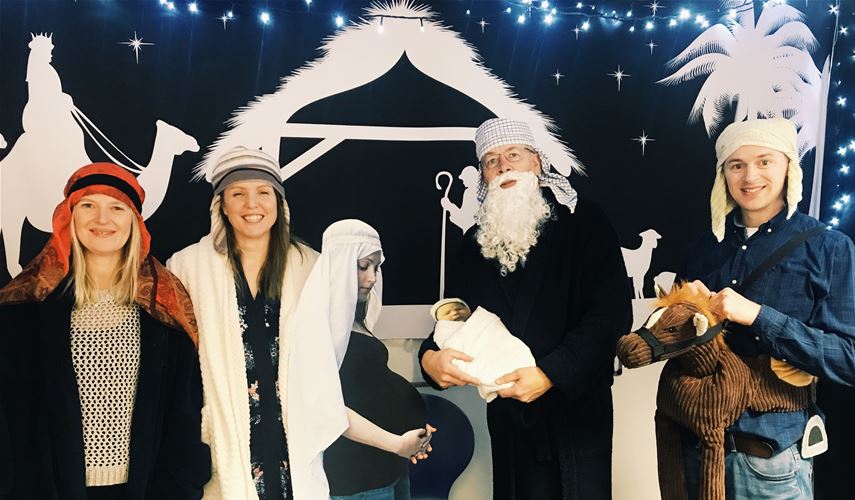 After the long journey, everyone was fed and watered with a middle eastern breakfast comprising of falafel, pitta bread, hummus and baklava accompanied by some delicious, fresh, Ethiopian coffee.
Not forgetting to score points for Christmasiness, the team also put together a fun festive quiz to round off the morning.
Chris Baines, Head of Marketing, said "Smashed it! On brief, on point counting the days until we are awarded victory!"
We can't deny the uniqueness of this event, never before have Shorthose Russell experienced a live nativity!
The finale of the Shorthose Russell Christmas Challenge is next week, let's see what the Digi Team have in store for us shall we?