Guide Dogs for the Blind
.
Complete redesign of a key product catalogue for one of the UK's most famous and loved charities.
Over the past four years we've reshaped and redesigned the Guide Dogs for the Blind Christmas Catalogue.  The brief initially was to showcase its range of branded and non-branded products with a stronger visual experience, ensuring we followed brand guidelines with the ultimate aim of driving sales.
Our work over the past four years has covered the design and photography of the catolgue in both A4 and A5 versions, along with prepaid order forms.
Design
Previously the images of the products presented in the catalogue were one dimensional.  We recommended a more lifestyle approach to presenting the products.  Taking the cue from well-known retailer catalogues we reshaped many of the product pages with lifestyle double page spreads showcasing many of products more visually.
Photography
To achieve these lifestyle pages we undertook a series of photography shoots.  We grouped many related products together then shot the products using props such as chairs, shelves, interior walls to demonstrate more clearly the actual products and 'bring them to live' more visually.
For example:
Showcasing their clothing range on models actually wearing the clothes in an outdoor setting
Wrapping actual presents with their range of wrapping paper instead of showing it rolled-up
Displaying products contents instead of just the boxes e.g. board games
Displaying their Christmas card range on a piece of string along an interior wall
Grouping dog treats on a kitchen shelf.
Consistency
In our design we also ensured the catalogue was consistent throughout and that we had a hierarchy of structure to the product information - e.g. price, USP, product details and importantly clear product codes for readers to find when ordering.
Visually Engaging
Ultimately we had to ensure that when the mailer landed on reader's doormats it had to be visually appealing and relevant to the customer.  We therefore worked to create an eye-catching design each year to draw the reader into looking at the catalogue and use it as a coffee/kitchen-table magazine which would encourage them to display and flick through on a regular basis.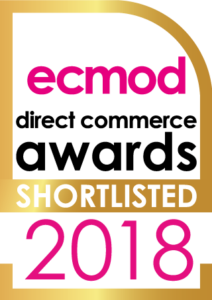 Charity Winner of the Ecomd Direct Commerce Awards 2018
.