The world of online content is alive with never seen before video and imagery. Today we can find spectacular visuals of absolutely everything, from beautiful places around the world to freerunners attempting crazy leaps of faith across skyscraper rooftops. Even life's everyday activities can be seen with a bird's eye view. Welcome the drone.
Drones are in themselves spectacular pieces of equipment – impressive remote controlled devices capable of flying the latest 4k and 8k resolution cameras safely around a radius spanning miles. Anyone can do it too. Worldwide sales, training programmes and licenses have grown enormously in recent times, resulting in a newfound accessibility to unique drone photography and video content.
This, coupled with today's social media obsession and desire to document our lives, the world, and places we've been, has seen an influx of very shareable and inspirational online content. Social networks have been riding a visual trend for years, but what we are now seeing is an evolution in the quality, style and ultimately – wow factor. We as online users crave wow factor. Drones provide just that.
Social networks are playing their part in driving this too. Some in the industry now argue that the likes of Facebook, Twitter and Instagram are in themselves video platforms, encouraging even further the sharing of visual and motion content. There are 2.3 million posts on Instagram with the hashtag #drone, with many highly-followed accounts dedicated to the sharing of amateur and professional drone content. @DroneoftheDay shares daily content using hashtag collation, with their feed a beautiful mix of all styles and locations.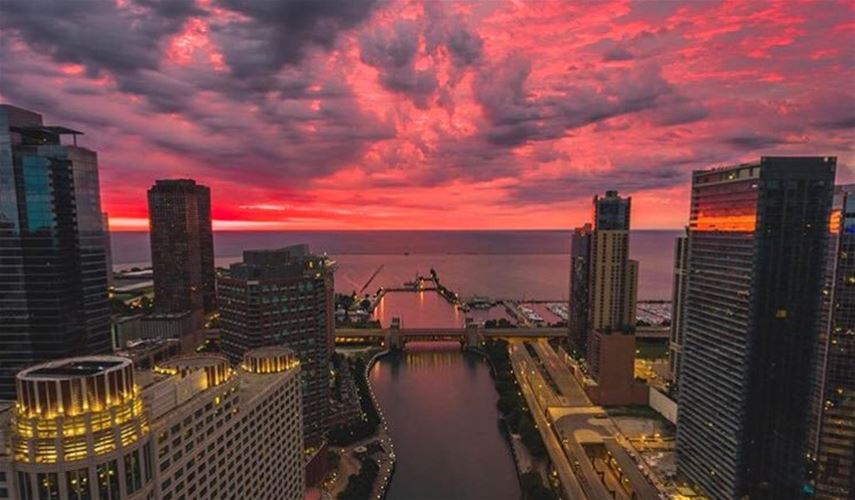 Chicago sunrise, courtesy of @razdood
We too have embarked on our own drone journey. Here is the latest video using drone footage for our client Woodhill Park, a camping and caravan holiday park based on the North Norfolk coast:
If you are interested in drone video or photography, please get in touch with us today.