As I was taking part in the evening scroll of my Twitter feed, among the snippets of news about the Autumn Statement and #HeathrowBears a tweet from one of my favourite bloggers, Estée Lalonde, caught my eye.
"Hey Twitter! I've recently been accused by a hotel of using their space as a studio when actually I was just on a weekend holiday. So great to see the internet community using their common sense and seeing this for what it is."
Followed swiftly by a WhatsApp from my friend. "Have you seen the Estée Lalonde Twitter drama? With a hotel in Margate?"
Drama! What drama? It was time to do some digging!
The Reading Rooms, a boutique B&B in the seaside town of Margate had taken to twitter to accuse social media influencer, blogger and YouTuber Estée Lalonde of using one of their rooms as a shoot location for an advertising campaign without asking permission, paying a location fee or tagging their social media handles.
A few days earlier Lalonde had posted an Instagram selfie of herself to her 700,000 followers and as standard practice for many (if not all!) bloggers and influencers she had tagged all the products and brands she had used in the photo. Estee had also Instagrammed a photo of her breakfast at The Reading Rooms and tagged the pyjamas she was wearing, but not where she was staying.

Image from Estée Lalonde Instagram
Something which the social media team at The Reading Rooms didn't take kindly to.
"So, Estee Lalonde 'influencer' and Lancome brand amabassador stayed. No location fee, tag or permission. Looks like advertising?" they proceeded to tweet.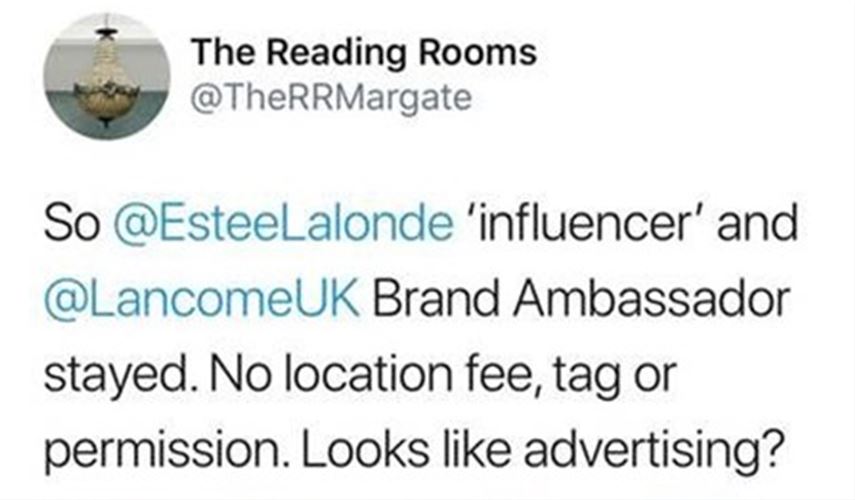 In a series of tweets which have since been deleted the B&B went on to accuse Estée and contacted the Advertising Standards Agency asking them to clarify if what Estée Lalonde had posted constituted as a paid advertisement.
Estée confronted the claims explaining that she was on a weekend holiday as a paying guest and was not obliged to tag the hotel in any way. She also explained that she was not photographing an ad campaign for any of the brands tagged in the Instagram post and if she was, she would have disclosed the partnership.
In a bid to backtrack and make sense of the situation the B&B questioned whether it would be helpful to introduce a location package for bloggers, by which time the drama was picking up lots of attention and reaffirming the fact that not all PR is good PR.
The blogosphere and the influencer industry can be a blurry one
It has been widely publicised that bloggers need to be more transparent when disclosing paid partnerships, we've blogged about ASA guidelines many times. The Shorthose Team and myself want to know how could The Reading Rooms get it so wrong?
First and foremost, it was the lack of common courtesy and politeness The Reading Rooms showed towards a paying customer (in this case one who happens to have a big influence with thousands of followers). The tone and approach they displayed over social media was not good practice. Social media is a very public domain and if you do have issues that need to be raised do this privately, offline.
The advice to any brand in this situation would be to:
Contact the blogger privately to clarify the situation and if this was a paid advertising campaign taking place on premises make clear the policy on such shoots.
If the ideal outcome for you is to receive a tag or acknowledgement of a bloggers stay via social media then ask nicely but remember they are not obliged to give you publicity! Any of the following tweet variations would have been acceptable:
"Hi – was great to have you stay and hope you enjoyed yourself! Could we trouble you for a tag to let people know about this part of the world?"
A retweet of the post alongside "Loved having a blogger come and stay with us the past weekend! Didn't she make our breakfast look divine."
Secondly it is so important to make sure you, your business and your staff especially those managing your social channels get clued up on the industry, the trends and how it is evolving.
A frequent follower of bloggers on Instagram would know that it is a normal occurrence to tag brands or products in a post whether you are paid to advertise them or not. One reason is to stem the flow of comments asking where your lipstick is from and also because tagging is just what you do on Instagram!
You would also know that bloggers with such large followings often don't tag or publicise where they are at that moment in time because of safety and maintaining privacy.
Lastly, this could have been a fantastic opportunity for positive exposure for The Reading Rooms if only they had gone about it the right way. Estée had a genuine association and love for the B&B, she chose to stay of her own accord as a paying customer, she wasn't invited in exchange for a review. If that isn't a compliment, I don't know what is! This type of relationship is gold for any brand but Estée has confirmed that due to the behaviour of the hotel they've removed all chances of any publicity from her, and most likely her followers.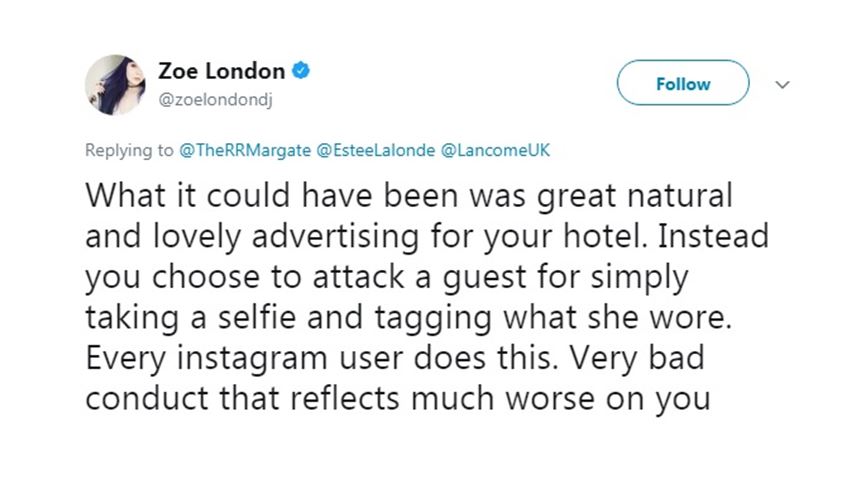 Looking for help with Social Media Marketing Strategy – Contact us
We can optimise your online presence both locally and nationally through social media using organic and paid digital strategies.